After much wandering and lusting, I finally settled on the sexy shoes for this week.
(I'd just need to make sure that the piano was on a carpet. Because pedals + high heels + smooth floor = High probability of fail)
These are called the Dolly, from Sensualfitters.com. Unfortunately, no brand was mentioned.

(I was just surfing, and have never purchased from this site, so I cannot vouch for them in any way. They just carry some sexy shoes)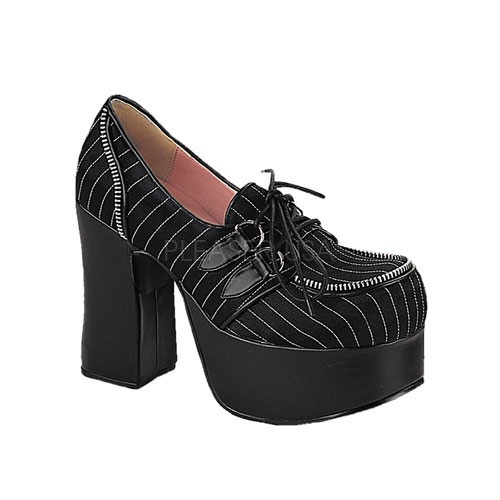 Then, from
Demonia
, the Charade with a bit of a lady mobster feel. I'm not always a big fan of their designs, and I find some of them downright strange and unsexy, but these are on the other end of the spectrum. I could pair them with a pinstripe suit (in dove grey, with black gloves as long as I could match them to the black of the shoes) and totally rock them.
I noticed I'm also digging the laces on these two pairs. I'm not sure why, as I usually detest laces on anything but sneakers and certain styles of boots. But in these two cases, they most definitely work. I think it may be the era of inspiration they draw from.
Whatever the reason, I lust after these two pairs of sexy shoes. And can't possibly justify them, so they are simply eye-candy.